Our favorite time is HERE. Is it springtime? Close, but even better. It's chunky sweater season ❤︎ ❤︎ ❤︎
We've been sourcing in earnest across the weeks to bring you the best in vintage knitwear—and vintage knits are already the best! Why? From natural fibers to synthetics, the quality of vintage knitwear is usually much higher than what is typically being produced today. A vintage sweater that looks and feels great after twenty years-plus of wear is bound to hold up beautifully for many years more! Quality aside, there's all the wonderful patterns, textures, and colors to be found in vintage designs—talk about treasure hunting. With all that said, let's take a little look at our collection:
Bountiful Botanicals Florals seem sweet and simple but can actually go so many ways: from a delicately-trimmed neckline to a full-on embellished front, these embroidered sweaters run the gamut from cottage-core charm to luxe maximalism. Our vintage print silk scarves and chunky gold chain jewelry pair extra well with these designs, for an additional dose of color and texture on grey spring days.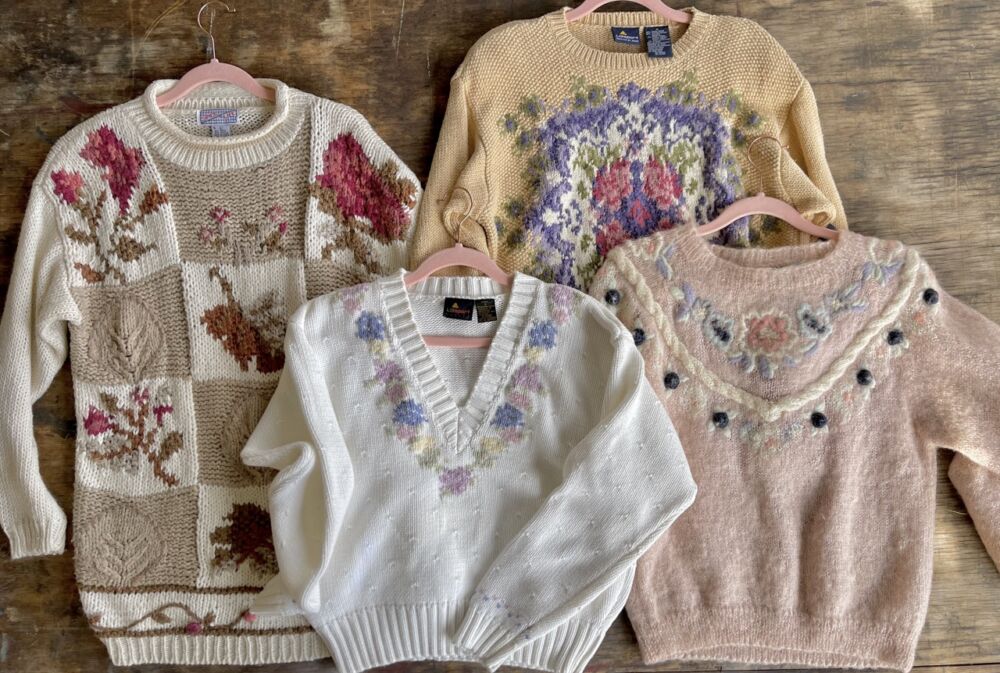 Preppy & Sporty Like two sides of the same coin, Sporty is the sister who actually goes to practice and gets her shoes dirty on the field, while Preppy plans different outfits for the warm-up and post-game party—and we love them BOTH. From collegiate cardigans to nautical stripes and plaid pullovers, these classic sweaters manage to be bold and playful while also looking crisp and pulled-together, making them perfect for work, play, and everything in between.

Pattern & Print Our collection is pretty heavy on the patterned side: that's how we like our chunky knits! From old school Icelandic styles with their intricate, naturalistic designs draped across the neck to big and bright and bold '80s geometric prints, the styling possibilities are endless. You can achieve a look that's true vintage, retro '80s, throwback '90s, or truly contemporary. If ever you want help with styling, we're always here to offer our two cents—just drop us a line (we are the Preppy sister, we're always planning outfits.)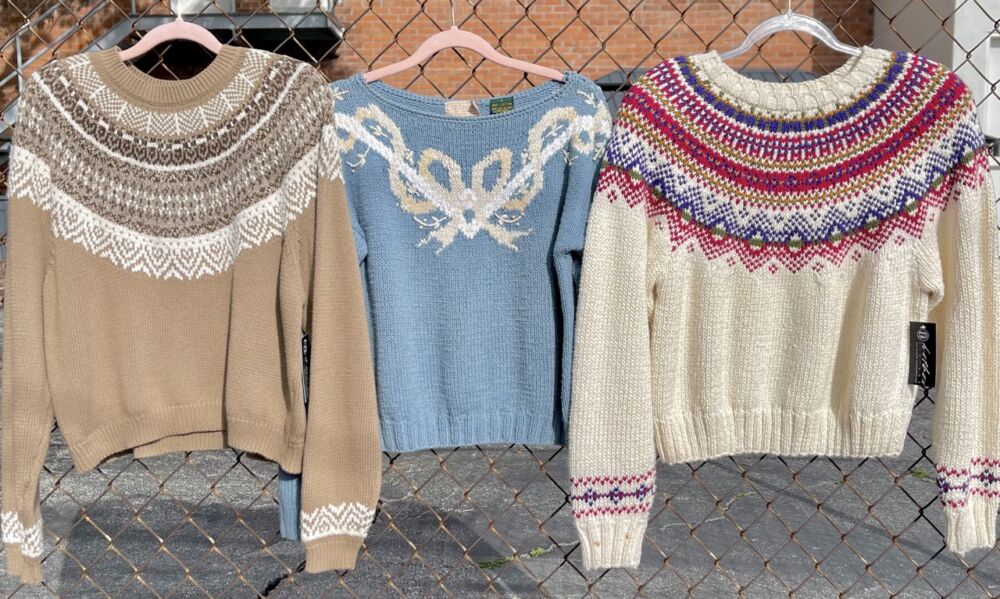 We hope you enjoy shopping this collection as much as we enjoyed assembling it!
We'll have more good stuff coming your way soon—in the meantime, stay cool, and stay cozy ❤︎